Out With The Old, In With The New!
The days of old when your website could only of been viewed solely on a desktop computer are now over.  Nine73 Media specializes in fully functional and responsive web design, making your website look amazing on any platform! Responsive Website Design is a vital part of your web presence! If your website is not available on mobile devices and tablets you are missing out on over 50% off all traffic!! Hire the experienced team at Nine73 for all of your Responsive Website Design needs.

Responsive Website Design
The days of old when your website could only of been viewed solely on a desktop computer are now over. Handhelds, mobile devices and other portable devices are the new reality in the web industry and it is absolutely imperative that your site caters to all types of devices, screen sizes and layouts to maintain its brand's positioning.  Maintaining your customers attention and engagement on your website is crucial and with NINE73 Media, we can help you accomplish that!
Watch Responsive Web Design in Action
Using a smartphone or tablet, go to www.nine73media.com.  If you only have a desktop or laptop, you can just drag the size of your web browser inward to initiate different screen sizes.  You are now seeing Responsive Web Design in live action!
Try this test out with our other websites we've designed to witness in action and what to expect from our responsive website designs!
Fits All Platforms & Screens!
NINE73 Media's responsive web design services is a service where we develop your website so that it automatically adjusts to the screen size and device used to view the site.  This ensures a consistent-based user experience and allows you to replicate your site's content without the reduction of its screen, as you need to do with a mobile site. Every single web site that NINE73 Media designs is builted with a fully functional and responsive design that fits all platforms and screens.  Click here to recieve a quote regarding our Responsive Web Design services!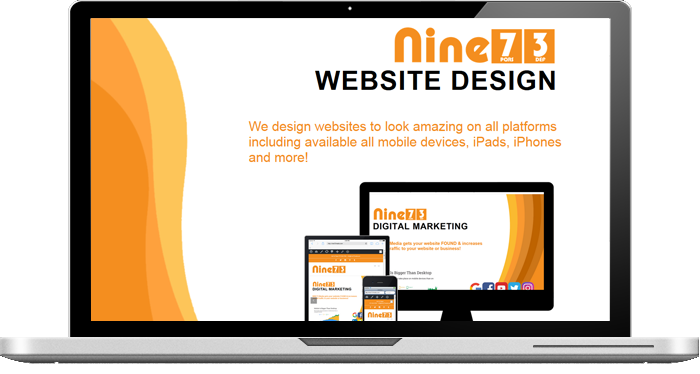 Here Are Some Benefits From A Responsive Website Design
Your website automatically scales to desktops, notebooks, tablets and smartphones now and in the future

One website for all devices consolidates web traffic considerably, yielding better SEO (Search Engine Optimization) results. Just ask our friends over at Google!

It helps provide broader content in general on your mobile properties

Cater to the over 112.5 million US consumers who own a tablet in 2016, which is one-third of the entire US adult population.